Chain of Custody Mobile Application
i2 are now able to offer a mobile application running from Android or iOS systems (phone or tablet) to help streamline the process of generating Chain of Custody forms. We've created this application with feedback from clients and our own staff to look at areas where we can increase efficiencies in sample submission and registration, ultimately to the benefit of all parties as we can reduce errors and speed up the process of getting your analysis started.
What was wrong with the paper form?
In theory, nothing. In practice, sampling can take place in a variety of environmental and climate conditions, not all conducive to neat and clear penmanship! What may have been fine at the start of a day may fall victim to wind, rain, mud, dropping, damage or loss in transit and what is received by the lab is not always in a condition we can use – and this leads to delays while we contact you for clarification. Or if the sampler is not the person who will schedule the analysis, that form has to get back to the office to either be transcribed and sent, scanned or posted – again adding time before the lab can commence with the testing.
How will the APP help with this?
The APP will collect all information in electronic format on your mobile device, simplified into pick-lists and selection criteria where possible to minimize key strokes. The data is validated and easy to review, auto capturing date and time of sampling and GPS coordinates.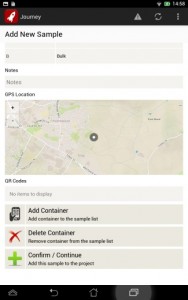 Sample containers are provided with QR barcodes which can be scanned using the camera on your mobile device, associating that container with the sample and removing the requirement to manually add name, site, BH ref, depth, date and time information to each jar or bottle.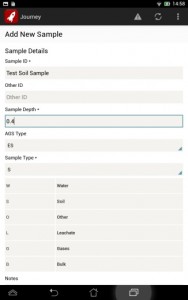 Once complete, your sample data is uploaded via either WiFi or 3/4G (device specific) and our systems will generate an electronic Chain of Custody form which will be e-mailed immediately to both our customer service team and your nominated e-mail contact for review and scheduling of analysis. When we receive the containers we can scan the barcodes and immediately match them to you, your project and their analytical requirements without the need for any transcription.
If you require any further information or would like a demonstration of the APP either on site or at your offices please feel free to contact us at Quotes@i2analytical.com