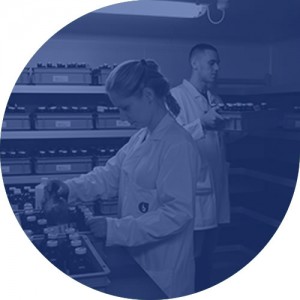 Despite the multimillion pound investment in facilities and instrumentation, the most valuable asset to the Environmental Forensics team is its staff.
The department is headed up by Helen Mealing as Environmental Forensics Laboratory Manager and Colin Everett as Environmental Forensics Technical Manager. Together, they have over 25 years' experience in method development and troubleshooting within trace organics. Colin has led the development of several novel techniques including the testing of PFOS and its derivatives at EQS levels.
Supporting Helen and Colin is Robin Macdonald (formerly Managing Director at Mountainheath), who has over 30 years' involvement in the environmental testing market and brings a wealth of knowledge to the Environmental Forensics team.
Continued professional development (CPD) is important to i2, so active participation on committees (such as the Standing Committee of Analysts) and presentations at national and international seminars is promoted. Here best practice can be discussed and shared and new procedures and methods investigated.
Staff training is critical to the on-going success of the department, and in addition to extensive in-house training, external training, seminars and self-improvement is encouraged.
What We Do
We also offer a wide range of analytical services, including
Environmental site services
For each of the above areas of expertise we can provide:
One-off samples
Fast track projects
Portfolio of on-going projects (site investigation and remediation)
Large volume throughput projects
Long term contract work (at set preferential rates)