Proficiency Testing Schemes
Proficiency Testing Schemes 2020 Update
These are externally run and monitored exercises which any laboratory must undertake successfully in order to maintain accreditation. i2 participate in three (Contest, Aquacheck and AIMS/AISS) and consistently pass with scores >90%, regularly achieving a 100% successful compliance.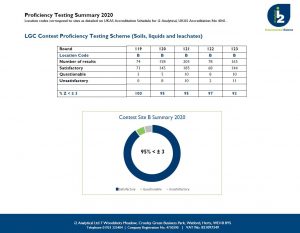 % Compliance Figures for Proficiency Testing Schemes 2020 Update
For further information about Proficiency Testing schemes or our participation please follow this link or contact our customer service team who will be happy to help.
Client Feedback Questionnaire
As part of our UKAS accreditation we are required to obtain feedback from our clients.  The chart above summarises this data into an overall satisfaction score.
The overall client experience score for the first quarter – January to March 2020 (inclusive).
Main Contacts
UNITED KINGDOM
i2 Analytical Ltd
7 Woodshots Meadow
Croxley Green Business Park
Watford WD18 8YS
POLAND
i2 Analytical Limited Sp. z o.o. Oddzial w Polsce
ul.Pionierów 39
41-711 Ruda Śląska
Poland